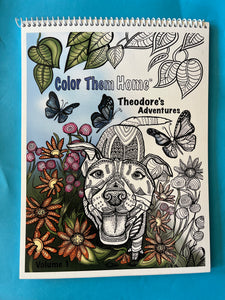 'Color Them Home' Single Book. Coloring Book
Volume One of our rescue series. Theodore's Adventures!  11"x14" in size. 20 pages of thick, acid free hand drawn coloring pages by artist Sandra Marshall. Single sided, high quality artists paper held together by a ring binder with perforated pages for easier tear out. 
Comes wrapped up with a resealable bag for pencils and easy transport to keep your book looking great.
This also comes wrapped in tissue paper in a white padded envelop and box depending on how many you order. Makes a great gift.